Greetings, carbloggers. In this first automotive tech article, we're going to take a closer look at the functioning of Honda's VTEC system.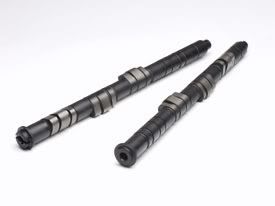 Greetings, carbloggers. In this first automotive tech article, we're going to take a closer look at the functioning of Honda's VTEC system.
To start off with: as you know, there are 4 things that occur in a typical internal combustion engine: Suck, Squash, Bang, Blow. No, you haven't logged onto dodgypornblog.com by mistake, although it might sound like it. Four strokes – intake (suck), compression (squash), combustion (bang) and exhaust (blow). On a given engine, power can be gained by modifications to any one of these strokes. There are many approaches to this, but today we're concerned with the intake stroke. Specifically, Honda's innovative approach called Variable valve Timing and lift Electronic Control – VTEC to you and me. Many other manufacturers have come up with equivalent systems, but Honda was the first (and probably still the best).
We all know that the more air you can get into your engine, the more fuel you can add to the mix, which means more torque, which in turn means more power. There are a number of ways to go about this. On atmospheric (naturally aspirated) engines, a common approach is to install more aggressive cams – however, the everyday driveability of the car tends to suffer (and fuel consumption goes to hell) as cam duration increases. Not a problem on the track, but this can get in the way when you just want to go pick up pizza and beer.
The VTEC system effectively combines two separate cam profiles in one engine, giving you the best of both worlds – a normal, comfortable drive when you're buying groceries, but that can provide howling power when you want to scare people. DOHC VTEC was first introduced to the Japanese market in the 1989 Honda Integra, and then to the rest of the world in the Honda / Acura NSX a year later.
So how does it work? The fundamental component is the VTEC valvetrain. On both the intake and exhaust camshafts, for each pair of valves there are three lobes instead of the usual two. The two outer lobes have conservative profiles, while the middle one has a longer duration and higher lift. In the picture on the left, you can clearly see the additional cam lobe compared to a normal camshaft on the right.
During normal driving, the two smaller lobes each push against a valve rocker, which in turn causes its valve to open and close. The middle lobe pushes against a follower, shaped like a rocker, but this follower does not operate any valves. The cam profile utilized at this point is aimed at engine smoothness and fuel efficiency for regular driving.
Once a certain RPM point is reached, the fun begins – oil is pumped into a channel within the cylinder head, which pushes a pin through both valve rockers as well as the middle lobe follower, locking them together. This means that these rockers are no longer actuated by the regular cam lobes, but instead duplicate the motion of the middle cam follower, which is actuated by the middle cam lobe. The rockers therefore open and close their respective valves according to the new, more aggressive profile of the middle lobe. Exhaust and intake valves now open further and for longer, providing a significant power increase. Oh yeah. Once the revs fall below the VTEC threshold once more, the pin slides out from the rockers and follower, and the rockers are once again actuated directly by the smaller lobes, returning the engine to 'normal' mode.
Subsequent to the success of VTEC in their high-end DOHC engines, Honda introduced it on some of their midrange SOHC engines as well. However, in this case, the VTEC system is only present on intake valves, the exhaust valves retain the same timing and lift across the rev range.
There are three further variants out there – VTEC-E, 3-stage VTEC, and I-VTEC, but I won't go into them now. If anyone wants more info, feel free to drop me an email.
For those who are curious, here is a list of VTEC equivalents from some other manufacturers:
Mitsubishi – MIVEC
Nissan – VVL
Porsche – Variocam Plus
Toyota – VVTL-i
BMW – Valvetronic
Got a question? Want to know how something works? Feel free to request a subject for the next article. Email me in the Atomic Lab: tachyon (at) carblog (dot) co (dot) za.